30 Jun 2016
Free and Open Source Invoicing System
Many of us don't know about there are good invoicing and billing software avaliable for Free which is open osurce and you can install it on your own server without paying single bucks.
These Free invocing and billing  software will help Freelancer, self-employed and small to medium sized companies which need a reliable and easy to use invoicing system but who can't afford an expensive software.
InvoiceHome
InvoiceHome is an ultra simple invoice generator created with freelancers and small businesses in mind. It is designed to offer ultimate simplicity and ease of use. Choose from over 100 invoice templates and get paid quickly. When you need a simple invoice too without any fuss, InvoiceHome is the number one choice.
Features:
– 100+ templates: InvoiceHome has a huge selection of custom invoice templates to choose from.
– Custom logo: add your company logo to your invoice for a professional appearance.
– Send via Email: InvoiceHome makes it easy to deliver your invoices so you can get paid now.
– Payment gateways: PayPal, Authorize.net and Stripe support.
– Automatic backup: Your billing history is important, InvoiceHome keeps a backup.
and more!
Invoice Plane
Invoice plane is the one of the best invoicing open source web application. The main idea behind the InvoicePlane software is the creation of an application you host on your own server and use it for basic invoicing and client management.
Features:
InvoicePlane is a solid app to manage your complete billing circle: from quotes over invoices to payments.
The application provides CRM-like management for your clients. Enter contact details, notes or add custom fields.
You can customize InvoicePlane to make sure it fits your needs: amount formats, email and PDF templates and many more.
InvoicePlane is fully translated into 23 languages by community members and more languages are coming soon.
One click online payments. Let your clients use PayPal to pay the invoices. Online, with just one simple click.
And it is Installed more than 30.000 times in 180 countries. You can also check InvoicePlane Demo.
Siwapp
Siwapp also an Free and open source web application meant to help manage & create invoices in a simple, straightforward way. This web application will also be able to work as a module -interconnected through its API- to many other business management applications which takes care -the easy way- only of the billing of the company.
Features:
Obtain printable pdf versions of the invoices, with a professional look & feel.
Save drafts of your invoices and continue editing them later.
Manage invoices with different serial numbers.
Meets all your privacy and security requirements, and allows you to backup your data on your computer at any time.
Bill from any internet connection enabled place using a secure & restricted access.
Automatically generate invoices on a periodic basis.
Open Source Billing
Open Source Billing is a simple web application to create and send invoices, receive payments, manage clients and companies. It generates reports of Item sales, payments, and collected revenues. It supports multi languages and multi currencies. This application is developed in Ruby on Rails v4.1.8. and Ruby v2.0.0.
Features:
Create and send invoices to your clients.
Create and send estimates to your clients.
Create/Manage expenses
Time Tracking for running projects.
Generate invoice from project log hours.
Convert estimate to invoice.
Recurring invoices.
Receive payments against sent invoices.
Partial payments tracking.
Receive payments through Paypal and credit card.
Invoice dispute handling
Manage billing for your multiple sister companies under one account
Export invoices/estimates to PDF
Generate Reports
InvoiceNinja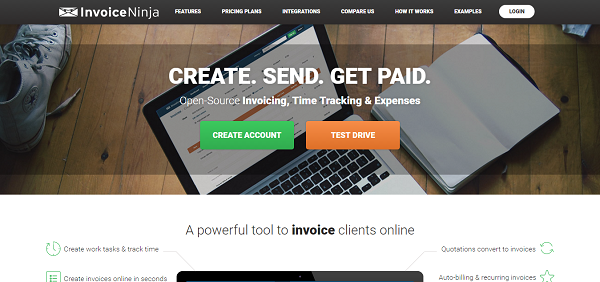 InvocieNinja is a powerful tool to invoice clients online and one of the best online invocing system. It is not completely Free but yes with some limited features it is free. Invoice Ninja best part is you need not manage installation & upgrades all this will come as SAAS(software as a service) based.
Features:
Custom Branding – Build trust. Email clients their invoices from  YourCompany.InvoiceNinja.com!
Quotes Convert to Invoices for Payment
Customize Invoices With Your Company Logo
Customize Email Subjects & Body Text
Customize Colors to Match Your Brand
Attach Invoice .PDFs to Emails
Create Quotations & Pro-Forma Invoices
Password Protect Client-Side Portals
Create & Email Invoices with One-Click
Email Invoices & Accept Payments Online
45+ Payment Gateway Options Supported
Create Recurring Invoicing & Auto-Bill Clients
Create Project Tasks & Track Time Online
Client-Side Portal & Invoices History
Accept Deposits & Partial Payments
Invoice Payment Auto-Reminder Emails
Alerts When Client Views & Pays Invoices
Real-time Invoice .PDF Creation
Item & Product Library System
Tax Settings per Item or Invoice Total
Multiple Currencies & Languages Supported
Professional Invoice Template Design
I hope this post will help you. If you have any other good invoicing software please share here on comments.