07 Feb 2014
Zopim develops intuitive products that redefine online customer experiences. Zopim's award-winning live chat solution helps businesses increase sales conversion by engaging important leads on their websites. With over 130,000 businesses actively using its live chat product, Zopim has become one of the leading provider in its space.
Zopim Live Chat lets you monitor and chat with visitors in real-time, making e-commerce easy and effective for a wide range of businesses. Impress your customers personally and ease them into their purchase. This unique approach has proven to be effective, increasing sales conversions by a factor of 10, as reported by Forrester Research, and by many of our satisfied customers.
Zopim was built and developed to be incredibly easy to install and use on any website. Simply sign-up for a free 14-day trial, get the unique embed code from the Zopim Dashboard, and paste it into your website's HTML source code. Visitors to your website will be able to chat directly with you through the widget and you can manage multiple conversations through the online Dashboard. We have built Zopim to be compatible with virtually all websites, without any software downloads, or firewall restrictions, and it is fully optimized for mobile devices.
Zopim is available through multiple channels, including free iPhone, Android (alpha) and BlackBerry apps, Skype integration, and through other IM platforms.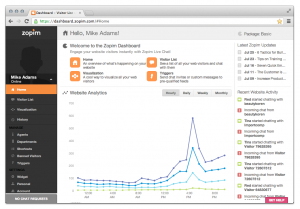 Features:
– Simple to setup
– Mobile
1) Mobile optimized live chat widget and chat button that works on every site
2) Native iOS, Android and Blackberry apps
– Customisable
1) Customizable chat widget to suit your style
2) Beautifully designed and easy to use HTML5 dashboard
– Advanced features
1) Monitor visitors and track their experience
2) Proactive chatting with customizable triggers
3) Automatic crowd-sourced translation
4) IM integration (with Skype, AIM, Yahoo, etc.)
5) Full suite of dashboard analyitcs
6) Spam reduction via banning
7) SSL support
8) Chat shortcuts
9) Chat history
10) Chat routing
Integrations:
Zopim currently integrates with the following list of third-party CRM/ticketing solutions:
– OSTicket
– SalesForce
– Highrise
– SugarCRM
– vTiger CRM
– ZohoCRM
– BatchBook
– Pivotal Tracker
– JIRA
– Zendesk
– UserVoice
Plugins:
If you are using a third-party CMS, plugins make installing Zopim even easier. We currently
support the following plugins:
WordPress
Joomla
Magento
Shopify
Opencart
Drupal
PrestaShop
BigCommerce
It is paid SAAS based application but Lite version is Free for life time. I personally using this zopim chat on my online gift shopping store and i am fully satisfied with this tool.