06 Jul 2016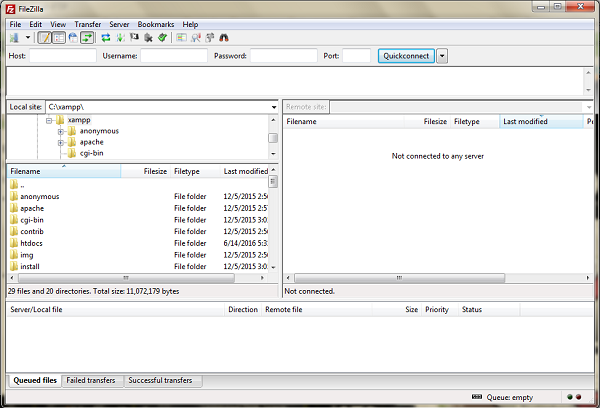 In simple words, In the case of creating a Website, this means that if you create the pages for your site on your computer, either using a text editor or some other Web page editor, then you will need to move it to the server where your site will be hosted. FTP is the main way to do this.
FTP is a file transfer protocol designed to aid in the moving of files from one location to another over a network. FTP is built on a client-server model architecture and uses separate control and data connections between the client and the server. FTP users may authenticate themselves with a clear-text sign-in protocol, normally in the form of a username and password, but can connect anonymously if the server is configured to allow it. For secure transmission that protects the username and password, and encrypts the content, FTP is often secured with SSL/TLS (FTPS). SSH File Transfer Protocol (SFTP) is sometimes also used instead, but is technologically different.
There are many different FTP clients that you can download from the Internet. Some of these can be downloaded for free and One of the most popular free and open-source clients available is FileZilla.
Download FileZilla from here you can download both client and server ftp tools.
FileZilla Client is a fast and reliable cross-platform FTP, FTPS and SFTP client with lots of useful features and an intuitive graphical user interface.
Features
Easy to use
Supports FTP, FTP over SSL/TLS (FTPS) and SSH File Transfer Protocol (SFTP)
Cross-platform. Runs on Windows, Linux, *BSD, Mac OS X and more
IPv6 support
Available in many languages
Supports resume and transfer of large files >4GB
Tabbed user interface
Powerful Site Manager and transfer queue
Bookmarks
Drag & drop support
Configurable transfer speed limits
Filename filters
Directory comparison
Network configuration wizard
Remote file editing
Keep-alive
HTTP/1.1, SOCKS5 and FTP-Proxy support
Logging to file
Synchronized directory browsing
Remote file search